Step 1: Choose your shade type below. Note that one shade kit type can be used for multiple applications. For example, one kit can be used to shade both windows and skylights.
  WINDOW
  SKYLIGHT
  RV
  BOAT
Step 2: Choose your fastener location. The image below shows recommended mounting locations.
Step 3: Measure width and height from fastener to fastener, then add 2 inches. These measurements will represent the actual size of the shading mesh needed for that window.
Step 4: Enter those measurements below and click the calculate button. Enter measurements in inches
Tip: Make sure to enter your email to receive recommended kit size, fastener spacing, and a printable cutting layout.
———————— BEGIN WINDOW ———————–
Choosing a Location for Fasteners
Tips:
Adhesive fasteners need a minimum 1 inch wide, smooth, flat mounting surface and can be installed directly onto glass if necessary.
For painted or textured mounting surfaces use screw fasteners.
Width and height are measured from center of fastener to center of fastener (across the glass) plus 2 inches.

 

Click for more details on how to measure…
———————— BEGIN SKYLIGHT ———————–
Choosing a Location for Fasteners
Tips:
Adhesive fasteners need a minimum 1 inch wide, smooth, flat mounting surface and can be installed directly onto glass if necessary.
Most customers prefer to avoid using screw fasteners on skylight frames.
Width and height are measured from center of fastener to center of fastener (across the glass) plus 2 inches.
Domed skylights usually require larger shades than flat skylights.

 

Click for more details on how to measure…
———————— BEGIN RV or BOAT WINDOW ———————–
Choosing a Location for Fasteners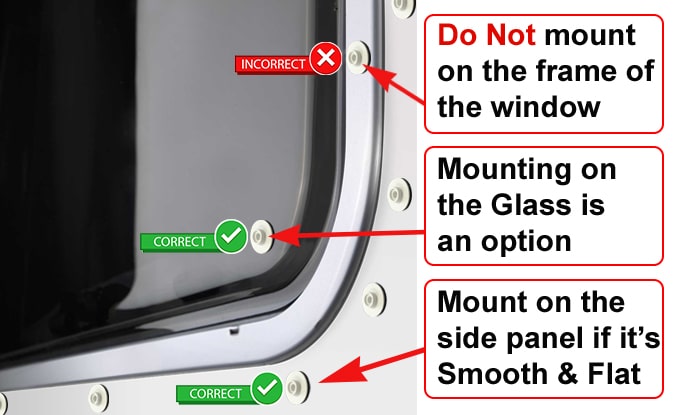 Tips:
Adhesive fasteners need a minimum 1 inch wide, smooth, flat mounting surface and can be installed directly onto glass if necessary.
For curved or textured mounting surfaces use screw fasteners.
Width and height are measured from center of fastener to center of fastener (across the glass) plus 2 inches.

 

Click for more details on how to measure…