Breakthrough Product

"
No Drill

" RV Skirting for Winter

RV Skirting Kits – Quick & Easy to Install
"Do it Yourself"

Solution with Professional Results.
#1 Selling RV Skirting in North America

Easy & Quick To Install RV Skirting
Patented EZ  "No-Drill" system features 3M™ extreme hold VHB adhesive. No special tools or experience required.

Keep the Heat In & the Cold Out.
Our Diamond-Weave™ skirting material is extremely strong, but lightweight for storage with a -40 Cold Weather rating.

Fits Any Size or Type of RV
"Non-Fray" Diamond-Weave™ skirting kits will fit any size or type of RV. Cut to size on-site for a perfect fit everytime.

Saves Money - Increases Comfort.
Professional grade RV Skirting, at an affordable price. Thousands less than skirting from an upholstery shop.

3M™ Extreme Hold Technology
"No-Drill" fasteners feature 3M® VHB adhesive. Super holding power in extreme hot or cold temperatures.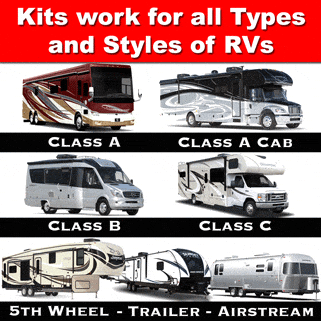 Step 1

– Enter your RV details into our Calculator below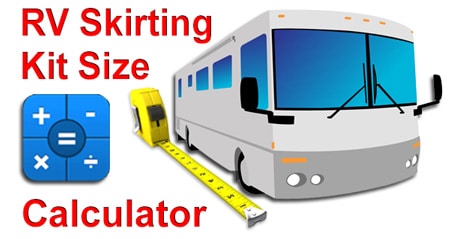 Get an Instant Price Estimate
The calculator will give you an estimate on the kit size and approximate cost for your RV Skirting or underpinning.

Follow this link to contact EZ Snap Customer Service. We're always happy to help with your RV Skirting project.
RV Skirting Kits – Quick & Easy to Install
"Do it Yourself" Solution with Professional Results.
SAVE THOUSANDS $$ using the EZ Snap® RV Skirting kit. The easy-to-install EZ Snap® system lets you achieve the same results as the expensive upholstery shop, without the big bill. Remember, a skirted trailer is an energy-efficient trailer.
Before the EZ Snap® skirting system existed, to insulate your RV with custom-fit RV skirting for winter, you'd have to hire an upholsterer to come to your location, measure, and install your custom RV Skirting. Whether underpinning your trailer, motorhome, or fifth wheel, the process of finding a custom upholstery shop to fit your RV with skirting can be challenging and come at a very high price.
Custom upholsterers often overbook RV skirting jobs in the fall, causing delays into the cold nights of winter. 
EZ Snap® skirting and snaps have been tested in the extreme winters of Northern Colorado & Canada and in the blazing heat of Arizona, Texas, and Florida. Our RV skirting and underpinning kits are designed to fit all makes and models of Class A & C Motorhomes, Travel Trailers, and 5th Wheels. Watch our RV Skirting video to learn more by clicking below…
How to Install RV Skirting Video
Click the video to watch it…
This 10 minute RV Skirting Video shows a step-by-step process for measuring and do-it-yourself installation…
See close-up video of how the 3M Adhesive Snaps attach to the sides of the RV.

How the Skirting Material easily pops onto the pins.

See the finished installation with Caps and Skirting installed.
Learn how to install EZ Snap® RV Skirting on trailers, 5th wheels & motorhomes.
Quick Order Processing
Orders Built & Shipped Typically "Within 5 Business Days". 
Avoid the high cost and scheduling delays of custom skirting by upholstery shops. We know time is of the essence when winter is on the way. There is no need to search for RV Skirting near me since EZ Snap ships right to your door. Our team makes processing your order a top priority with fast and accurate order fulfillment.  Find out what size kit will fit your RV using our calculator here…  Order securely online and receive your kit quickly, then install your own skirting with professional-looking results. Be sure to order your RV Skirting early in the fall or late summer though, as the closer we get to winter the bigger the chance for a delay in your order.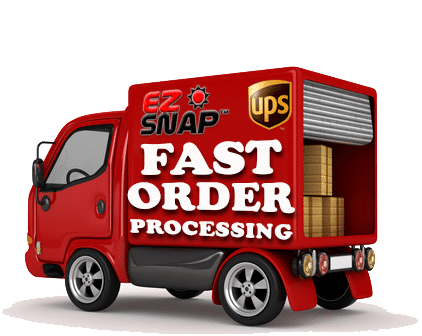 Diamond Weave RV Skirting
4 Colors Available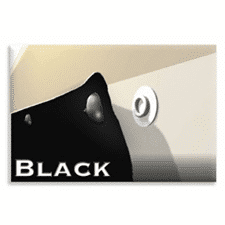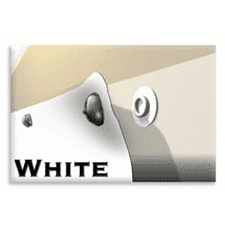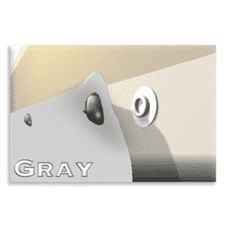 Maximum U.V. & Fade Inhibitors
Mold & Mildew Inhibitors 
– 40 Cold Crack Rated
Premium RV Skirting Material.
When EZ Snap® developed this winterizing "DYI" RV skirting kit, we wanted to use the very best material we could find for the application. All of our skirting products are made using Diamond Weave™ premium skirting vinyl.  Diamond Weave™ is a very strong and durable vinyl with half the storage bulk of regular RV skirting. The secret to Diamond Weave's™ strength is its diamond-shaped interlaced scrim base, ensuring lightweight skirting, while still providing a durable insulating barrier in extreme weather conditions. Our skirting material is also triple coated material, for extra durability.

♦ -40 Degree Cold Weather Rating:   The Diamond Weave™ RV skirting material is able to withstand temperatures to -40 degree winter conditions. Diamond weave RV Skirting can handle the extreme summer temperatures in places like Arizona, as well the extreme cold of a Colorado winter. When you're looking for economical RV skirting solutions and skirting options, EZ Snap® is the only clear choice.

♦ Non-Fray, "Cut on Site" Fabric:   Diamond Weave™ RV skirting is a specialized, "Non-Fray" material designed for RV Skirting and underpinning. It features an encapsulated yarn built right into the base fabric. This is a great feature as it allows Do-it-yourselfers to cut the fabric on-site without the need for hemmed edges. Install it as one big skirting or cut it down into easy-to-store RV Skirting panels.

♦ High Quality Skirting at Wholesale Prices:  EZ Snap® RV Skirting is much less expensive than a professionally installed skirting, but the quality of the finished product will be as good, if not better, than the material most upholstery shops install. Our customers are typically quoted $2500 to $5000 for upholstery shop skirting. Save $$$ THOUSANDS $$$ of dollars and install an EZ Snap® kit.
 ♦ Mold and Mildew Inhibitors:  Diamond Weave™ RV skirting also has the maximum amount of U.V. ray and fade inhibitors, as well as mold and mildew inhibitors. Warm, moist air can breed mold and mildew spores so using an electric heater or two under your skirted RV can also help protect against mold and mildew, not only on your skirting but underneath your rig.
Patented EZ Snap® "No-Drill" Fasteners
Quick & Easy, "Peel & Stick" installation
New 3M® Super Hold Adhesive
Tested in Extreme Hot & Cold Environments
"No Drill" Fastener System by EZ Snap®
Breakthrough 3M® adhesive technology now means you can have professional-grade RV Skirting, without having to drill screw holes into your RV.
*** Tested in Canadian Winters to Hot Arizona Summers.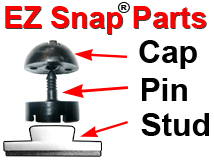 The EZ Snap® 3M Fastener system has 3 separate components, the cap, pin, and stud.
This patented fastening system makes your RV skirting install quick and easy.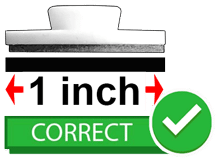 Smooth, Flat and 1″ Wide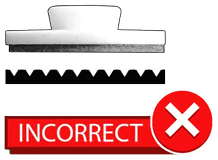 No Textured Surfaces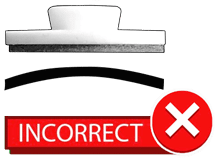 No Curved Surfaces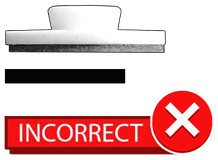 Too Narrow
Recommended RV Skirting Accessories
EZ Snap® is the #1 Selling RV Skirting product in North America with decades of experience. Over the years, we have compiled a list of recommended accessories for your RV Skirting. We highly recommend that you consider using some from the list below along with your EZ Snap RV Skirting kit.
Click on the various products below to learn more.
The RV skirting can be held in place in a variety of ways. One of the best ways is to use the EZ Snap® RV Skirting pipe clamp shown here. Simply use along with lengths of standard 3/4″ white PVC irrigation pipe. (This pipe typically has a 1 and 1/16th of an inch O.D. and available at most local hardware stores). 
First, build a framework with the pipe on the ground that matches the profile of the area you are planning to skirt. Use pipe connectors and 90-degree elbows to join the pipe lengths.
Next, wrap the bottom of your skirting fabric around the pipe lengths and snap our pipe clamp over the fabric.
Tuck the excess fabric under the RV. The pipe frame helps secure the fabric in the wind, as well as, giving it a straight and wrinkle-free look.
Further secure your skirting from the wind by placing sandbags or cement blocks behind the skirting. Place them in the corners and a few more down the sides. Ensure that you do not weigh down the skirting, as this places a lot of extra force on the fasteners. Instead, the sandbags are there to pin the pipe frame in place and keep it from moving around in the wind.
Using other techniques run the risk of applying downward pressure on the skirting and possibly pulling it off of the fasteners or damaging the fasteners.
Pipe clamps can be purchased with your kit and sold separately in the accessory section of our store. Install pipe clamps about every 2 feet.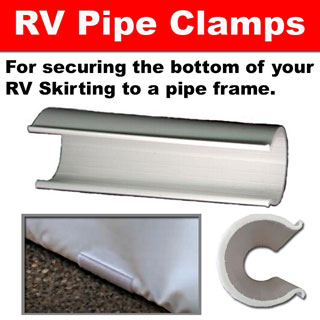 Gives your Skirting
a Professional
and finished look.
Easy DIY Installations for RV Skirting.
EZ Snap® instructions on how to install RV Skirting include all the info you'll need to do it yourself. Follow this link for detailed RV Skirting installation instructions here…
RV Skirting Installation Video…
The RV Skirting install is very similar to our RV shade screens or our residential shade screens. (See the "How to install your own RV Skirting" Video).
®
skirting fits all makes and models of 5th Wheels, Class A, Class C or Travel Trailers.
You first place the screw studs into your RV in the areas where you wish to install the RV skirting. We recommend a 10″ spacing on the screw in fasteners and a 5″ spacing for the adhesive 3M style. Next, place the EZ Snap® pins onto the studs. Place the skirting fabric over the pins, puncturing through the fabric with the pins and taking out any wrinkles as you move along. Then when you are happy with the look, just press on the EZ Snap® caps and you're done.
You may want to add a rigid Styrofoam insulation board behind the skirting to add extra R-value for climates with sub-zero temperatures.
The RV side skirting fabric comes in either 46″ or 60″ height. The 46″ tall skirting is great if you have slide-outs since you are able to use one height all the way around your RV. The optional front fifth wheel enclosure skirt (useful for storage) is 71″ tall. If it is too tall, just trim down the gooseneck skirting to your required height or tuck the excess under the RV. Remember our RV skirting material is a "Non-Fray" fabric so there is no need to hem it.Save Save Save Save
How to Join RV Skirting Panels…
RV skirting panels join together using our special Gecko™ Extreme Stick Velcro for RV Skirting. Useful for accessing the space under your RV for hookups, maintenance, and storage. This Velcro was specially designed to stick to our RV Skirting product and is ideal for connecting skirting panels or creating access doors. Gecko™ Velcro allows you to cut down our skirting product into smaller sections and then join them together for a nice finished look, and to create access doors where needed.Save Save
RV Skirting Photo Gallery with Fifth Wheels, Trailers & Motorhomes.
EZ Snap® vinyl skirting material is designed to handle extreme temperatures. Diamond weave RV Skirting can withstand extreme summer heat in places like Arizona, as well the extreme cold of a Colorado winter. Have a look at the photo gallery, below, to see our proven skirting system in action.
Get Your Free Guide for RV Winter Living & Storage.
Valuable Tips & Info help you prepare for cold weather. Includes winterization instructions for full-time or part-time winter RV living.
This guide covers all the most important things to do when you're winterizing your RV. No one likes frozen pipes.
It's FREE and there's no obligation…
Download your copy today.