Patented

"No-Drill"

 fasteners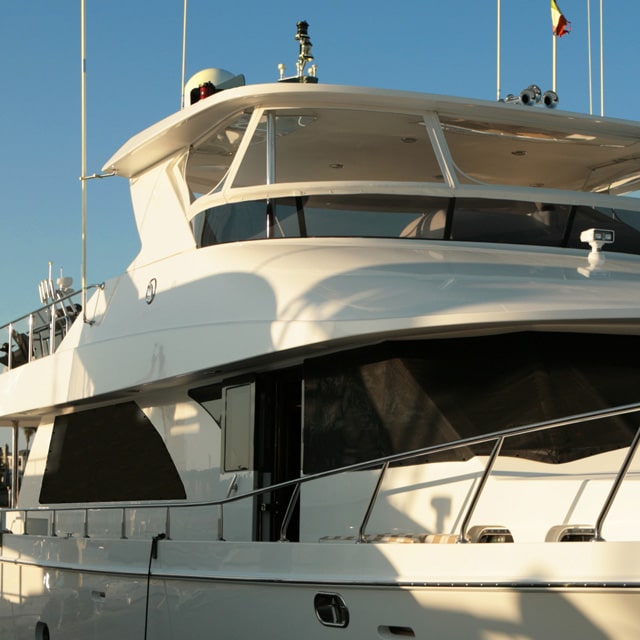 Block The Heat, Not The View.
Our Thermo-Weave™ mesh blocks up to 90% of the sun's heat & damaging UV rays, WITHOUT BLOCKING YOUR VIEW.

Easy & Quick To Install
Patented EZ  "No-Drill" system features 3M™ extreme hold VHB adhesive. No special tools or experience required.

Any Size or Shape of Boat Window
"Non-Fray" Thermo-Weave™ shading kits will fit any size or type of Boat window and are cut to size on-site.

Save Money
Shades pay for themselves in reduced cooling costs. Up to 15° degrees cooler & reduced UV damage.

3M™ Extreme Hold Technology
"No-Drill" fasteners feature 3M® VHB adhesive. Super holding power in extreme hot or cold temperatures.

  3′ x 6′ Kit =   $66.95
  5′ x 6′ Kit =   $129.95
  7′ x 6′ Kit = $143.00
10′ x 6′ Kit = $194.95
12′ x 6′ Kit = $239.95
Larger Kits Available – From 15′ to 150′
One Kit can do Multiple Boat Windows
making the cost per Window much less!


Get Your Price in 3 Easy Steps
Step 1

– Choose the Best Fastener Location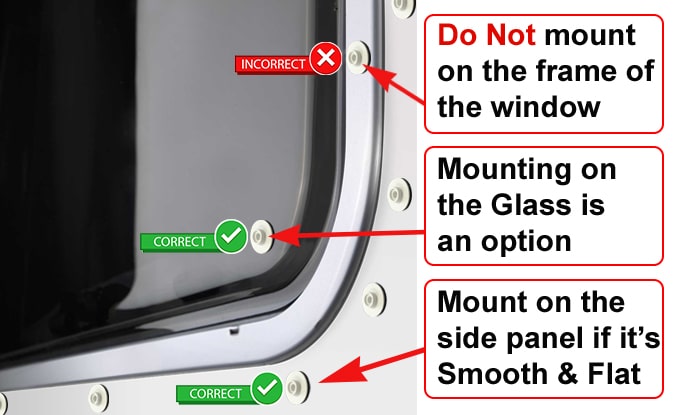 3M™ Adhesive Stud Set
For all smooth, flat surfaces including glass.


3M™ COMBO Stud Set
For all Surfaces. Stainless Steel center screw.


Stainless Steel Stud Set
For all Surfaces.  Stainless Steel screw style.


   If the side of the boat is textured, you can always mount on the boat window glass if it does not slide.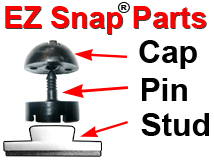 The EZ Snap® Fastener system has 3 separate components, the cap, pin, and stud.
This patented fastening system makes your RV window sun shade install quick and easy.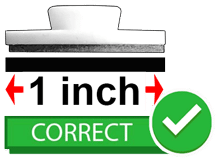 Smooth, Flat and 1″ Wide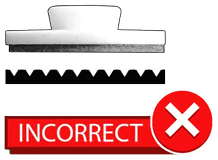 No Textured Surfaces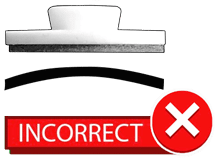 No Curved Surfaces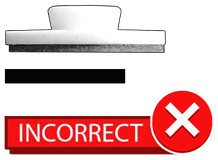 Too Narrow
Step 2

– Measure or Estimate your Window Sizes
 How to Measure your windows

:
Measure width and height from fastener to fastener, then add 2 inches to your measurements.
These are the measurements of the actual size of the EZ Snap® shading mesh you will need.
  Can't Measure Right Now?
Estimate the size of your windows if measuring now is not practical.
Be sure to get exact measurements before ordering.
Step 3

– Use our Online Calculator to get your Instant Quote
Results will Include the Following:



Number of fasteners needed

Still Have Questions ?


Learn More Below



Yacht Shades
Exterior Boat Window Shades Block the Sun.
Yacht solar shades are the ideal way to keep the heat out, but still have your view.
These exterior solar blinds have the added benefit of giving you privacy while your boat is moored. Even though you can see through the shading mesh just fine from inside the boat's cabin, people on the outside cannot see in.
Effective DIY solar shades that block heat for windshields, side windows and Bomar Hatches.
No holes to drill… No sewing… No special tools required
When you use the EZ Snap adhesive studs, there is no need to drill holes in your boat or window frame to mount the shades.
All of the EZ Snap fasteners and mesh are designed to stand up to marine conditions such as salt water and hot or cold weather.
The fasteners are also designed to stand up to the strong winds found on the open ocean.
Shade "Product of the Year"
EZ SNAP® QUICK & EZ
The patented EZ Snap® fasteners & our proprietary non-fray fabrics make it easy for you to "cut to size" and install right on site. Our "NO DRILL" 3M™ adhesive snap studs also mean no holes in your yacht or RV with professional looking results everytime.
No Experience Needed
No Special Tools Required
No Drill 3M™ Adhesive Studs
Non-Fray EZ Snap™ Solar Shade Screens
Dept of Energy has proven that outdoor mounted shade mesh is up to 7 times more effective than interior blinds, shades or boat window tinting.
Block the Heat – Not the View
EZ Snap's Thermo-Weave™ Boat Shades are Optical Grade
Unlike other solar shade screens, we have designed our sun screen material to reduce view distortion and weave variance. EZ Snap® yacht shades maintain the view while blocking up to 90% of the sun's heat and damaging UV rays.
With your EZ Snap® exterior sun shades installed, you will be able to open your interior blinds and shades, giving you an even better view outside.
All EZ Snap's material are marine grade and good for both fresh water and salt water installations.
Perfect for when you are moored at the marina. You can see out, but its harder for other boaters to see inside your vessel.
Cut to Size On-site
Fits Any Size or Shape of Boat Windows
These Shade Kits will fit any size or shape of window on boats and RVs. Fits all sailboats and motor vessel boats. All brands and makes of boat.
Perfect for curved, round or triangle shaped windows when interior blinds may not be available (or just too expensive).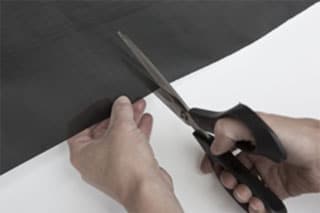 EZ Snap Shades are non-fray material. Cut to custom window sizes at the marina or in your back yard.
Thermo-Weave™ Boat Window Shading Mesh
"Non-Fray" Bonded Mesh for Extreme Marine Weather Performance.
Non-Fray Coating

Optical Grade

Bonded & Braided Scrim for extreme weather performance

Dimensionally Stable

Super Strong Core Fibers

Encapsulated Weave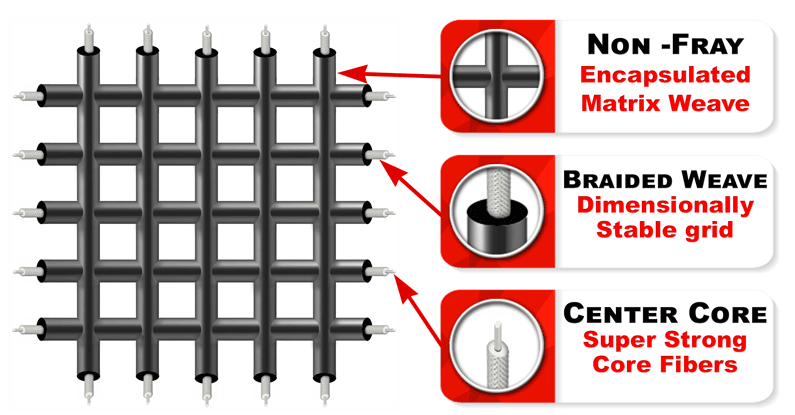 Blocks up to 90% of the sun's heat and damaging U.V. rays.
The proprietary encapsulated Thermo-Weave™ shading mesh may be cut to any size or shape of boat window without the need for hemming or binding the cut edges.
This unique shade cloth, developed by EZ Snap®, allows the "Do-it-Yourselfer" to create professional-looking finished shade screens without any need for expensive tools or high priced professional upholsterers.
When installed using the patented EZ Snap fasteners, you will get professional, wrinkle-free results every time.
EZ Snap® exterior shade cloth has been specifically designed to work with the EZ Snap fastener system.
Note: if you chose to use a fabric other than EZ Snap® shading mesh, it will void the fastener warranty.
3D Animation of the EZ Snap Fastener System in Action.
This animation shows how the different EZ Snap parts fit together.
This boat Shade Sunscreen animation shows how easy it is to fashion your own exterior boat solar shades on your boat or yacht windows.
This animation first shows the "Peel and Stick" 3M Adhesive Snaps attaching to a large cabin cruiser yacht, then the EZ Snap pin, followed by the EZ Snap Thermo Weave shade cloth. And finally, it is all held in place by the color matching locking cap.
Why is EZ Snap So Effective at Stopping Heat?
Shade Screens that Install on the Outside of Your Windows
Exterior Shades install between the sun and the glass, stopping up to 90% of the sun's heat before it enters your boat or yacht… far superior to window tinting or film.
Windows are typically the source for up to 48% of the heat build up inside a boat or yacht's interior. EZ Snap Exterior Shades will make for a more comfortable and cooler boating experience.
The U.S. Dept of Energy recognizes that Shade Screens installed on the exterior of your vessel are up to 7 times more effective at stopping heat than interior blinds or window tint.
Our boating customers tell us that they love having it cooler and more comfortable inside the boat's cabin. They also appreciate the added UV protection for expensive interiors, guages, and instruments that reduces damage and fading.
Another great benefit is increased daytime privacy while you are moored in busy locations.
"Everything turned out exactly as we hoped. Easy to install and very effective."
Paul A.
"Worked perfectly. Easy installation and excellent protection for my Bowmar hatches."
Pete Cherouny
Protect Your Marine Investment from Heat & UV Damage
EZ Snap boat shades will not only make your vessel more comfortable, but they also protect your valuable investment.
The optical grade, see-thru mesh blocks up to 90% of the sun's heat and damaging UV rays.
This will save your instrument dash, upholstery, carpet and curtains from the sun's damaging rays.
Fast and Easy installation on power boats, yachts, and sailboats to block sun and heat for windshields, side windows, and Bomar Hatches.
How to Measure Boat Windows
Exterior Yacht Window Shades are ideally fastened to the side of your boat, just beyond the edge of the window frames. Keep this in mind when measuring to ensure you order enough Shade Material to overlap the  Snaps. Shades can also be mounted directly onto the window glass, if desired.
Take measurements of the windows you want to shade.
Enter window measurements and your email address into the EZ Snap® Shade Kit Size Calculator.
Click the Calculate button to receive recommended kit size, fastener counts, and layout diagram.
Tip: Calculator results will also be helpful when it's time to cut your Shade Mesh to fit your yacht windows. The free layout diagram provides a pattern with dimensions for each window.
When covering multiple windows, it's important to use the washable layout pencil to mark your layout on the Shade Mesh before you start cutting. Measure twice, cut once.
Shade Multiple Windows with One Large Kit
EZ Snap® Shade Material is 6 feet (72 inches) wide, by whatever kit length you order. For example:
3 Foot Kit is 6 by 3 feet
5 Foot Kit is 6 by 5 feet
20 Foot Kit is 6 by 20 feet
For more detailed instructions on How to Measure Yacht Windows for Shades, follow this link to our Frequently Asked Questions Page.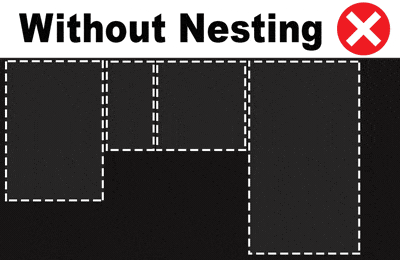 Photos of Exterior Window Shades for Boats
EZ Snap® window shade mesh installs outside with or without screws.