Thermo-Weave™ Shading Mesh
"Non-Fray" Bonded Mesh for Extreme Weather Performance.
The proprietary encapsulated Thermo-Weave™ shading mesh may be cut to any size or shape without the need for hemming or binding the cut edges.
This unique shade cloth, developed by EZ Snap®, allows the "Do-it-Yourselfer" to create professional-looking finished shade screens   without any need for expensive tools or high priced professional upholsterers.
Our exterior shade cloth blocks up to 90% of the sun's heat and damaging U.V. rays.
When installed using the new EZ Snap fasteners, you are able to get professional, wrinkle free results every time.
EZ Snap® shading mesh as been specifically designed to work with the EZ Snap fastener system. Note: if you chose to use a fabric other than EZ Snap® shading mesh, it will void the fastener warranty.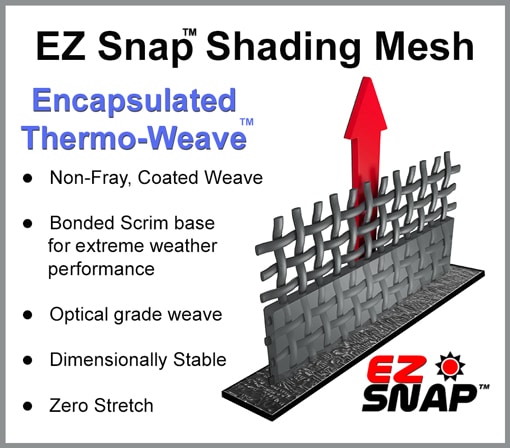 EZ Snap's Optical Grade Solar Shade Screen
"See-Thru" Shade Cloth for Exterior Shade Screens.
The patented EZ Snap® shading system utilizes our proprietary shade cloth Thermo-Weave™, an optical grade shading material.
Thermo-Weave™ is unique, unlike most other shade cloths on the market. Our exterior shades do not distort your vision when you look through the shade mesh on your windows, glass doors or skylights.
What is Shade Cloth?
Shade Cloth is a general term, commonly used to describe a variety of shading mesh materials or shade screens. Most shade cloths have uneven and irregular weaves with over-sized yarns.
Although these shading screen materials will give you a shade factor, they are not designed to be solar shades that you can see clearly through. Solar shades need to retain a clear view through them, if they are used on view windows.
EZ Snap's shade cloth not only retains your view, but actually enhances it by reducing the glare from the sun.
Exterior Window Shade Video
Watch this short video to see how EZ Snap® Shades Block the Heat, Not the View.
Shade Screen Video shows homes with exterior solar blinds on windows of all sizes, including arched windows, and do-it-yourself installation.
See close-up video of how the 3M Adhesive Snaps attach to window frames, how the Shade Material easily pops onto pins, and see the finished installation with Caps in place.
Shading Mesh Photo Gallery
Window shade cloth is available in Black, White, and Beige. The shade factor is the same, but different colored mesh may be better for your specific DIY project.

EZ Snap® Reviews:
"I think these shades are a very ingenious idea – keeps the heat out in hot weather… I Love it"
L. Kelly, Anaheim CA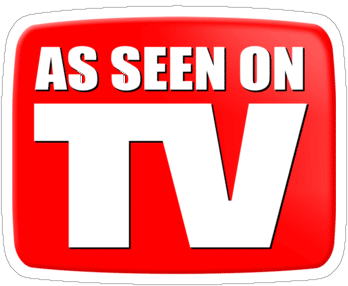 "Shade Product of the Year"
Patented Fastening System:
"As Seen On TV": Thousands of orders to
Happy Customers in the U.S.A. & CANADA

EZ Snap® Reviews:
"Thank you… The installation was a snap… very pleased at how it looks on the windows and how well it keeps the heat out."
H.E. Fryer

EZ Snap® Reviews:
"I put the EZ Snap skirting on in the fall of 2011. So far since then I have not had one freeze-up. Before putting the skirt on, my plumbing would freeze up at about the 11 below zero point. It hasn't done that and we definitely hit below that this winter and last."
Dani E, Wyoming

EZ Snap® Reviews:
"Your product works great and saves $$$. I estimate I saved over $1000 over conventional aluminum sun shades"
Danny G. in Peoria, Arizona