Shade "Product of the Year"
EZ SNAP® QUICK & EZ
The patented EZ Snap® fasteners & our proprietary non-fray fabrics make it easy for you to "cut to size" and install right on site. Our "NO DRILL" 3M™ adhesive snap studs also mean no holes in your skylights, windows or RV with professional looking results, every time.
No Experience Needed
No Special Tools Required
No Drill 3M™ Adhesive Studs
Non-Fray EZ Snap™ Solar Shading Mesh
Exterior Window Shades
Sun Blocking Exterior Shade Screen for Windows & Skylights.
Block the heat, not the view by installing outdoor EZ Snap® solar blinds. Easy do-it-yourself patented system that delivers professional looking results for your home or office.
Window Shade Screens guaranteed to fit all shapes and sizes of windows and skylights.
Our Breakthrough Innovation EZ Snap® Fastener system allows you to quickly & easily install Optical Grade exterior sun shades on vinyl (rigid PVC) and aluminium window frames without drilling or using screws.
Installing outdoor window shades on wooden window frames, stucco, or brick? Our diy window shade kits including Shade Mesh, Stainless Steel Screw Snaps, and step-by-step instructions will have you cooled down faster than you can say EZ Snap®.
Common Problems Fixed with Window Shade Kits…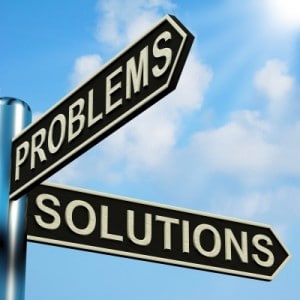 Sun is beating into your living or working space, making you hot, sweaty, and uncomfortable.
UV rays are damaging your wood floors, furniture, artwork, and other belongings day after day.
Bright sunlight is reflecting off your TV or Computer screens, making them hard to see and causing eye strain.
Spending a small fortune on air conditioning to keep cool.
Sun reflecting off the outside of windows (especially Low-E) melting your vinyl siding.
Views are blocked by traditional interior blinds, sun shades, or reflective material.
The EZ Snap® Shade Solution…
Block the Heat, Not the View (up to 90% heat block).
Save $$… EZ Snap® pays for itself through reduced air conditioning bills.
Quick & EZ Installation Kit.
Patented System with Optical Grade Shade Screen. 
No Special Tools Required.
Fits Any Size or Shape Window (Cut to Size On-Site).
FAST Door to Door Delivery by UPS… Free on orders over $225.
Cut to Size on-site
To fit any size or shape of Window
Becuase the EZ Snap mesh is a non-fray material you can cut it to size right on-site to do any size or shape of window. Perfect for curved or triangle shaped windows as well, where blinds are not available for those shapes.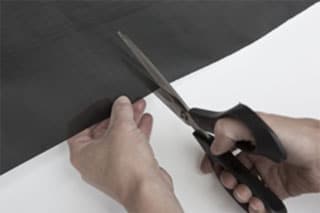 $ave the environment and money at the same time. Discover what thousands of EZ Snap customers already know… how effective and simple to install this proven sun blocking idea is. Don't spend another summer in a hot and uncomfortable home.
For more information, follow these links to watch the EZ Snap® Videos, see a variety of EZ Snap® projects in our Photo Gallery, or view and print our PDF EZ Snap® brochure.
Exterior Window Shade Video
Watch this short video to see how EZ Snap® Shades Block the Heat, Not the View.
Shade Screen Video shows homes with exterior solar blinds on windows of all sizes, including arched windows, and do-it-yourself installation.
See close-up video of how the 3M Adhesive Snaps attach to window frames, how the Shade Material easily pops onto pins, and see the finished installation with Caps in place.
5 Steps to Installing the Best Heat Blocking Window Shades:
Take measurements of the windows you want to shade.
Enter window measurements and your email address into the EZ Snap® Shade Kit Size Calculator. Click the Calculate button to receive recommended kit size, fastener counts, and layout diagram.
Place your order securely online or over the phone.
Follow the installation instructions in your kit (or on the "How to Install" page).
Relax and enjoy your cooler, more comfortable home.
Thermo-Weave™ Shading Mesh
"Non-Fray" Bonded Mesh for Extreme Weather Performance.
The proprietary encapsulated Thermo-Weave™ shading mesh may be cut to any size or shape without the need for hemming or binding the cut edges.
This unique shade cloth, developed by EZ Snap®, allows the "Do-it-Yourselfer" to create professional-looking finished shade screens   without any need for expensive tools or high priced professional upholsterers.
Our exterior shade cloth blocks up to 90% of the sun's heat and damaging U.V. rays.
When installed using the new EZ Snap fasteners, you are able to get professional, wrinkle free results every time.
EZ Snap® shading mesh as been specifically designed to work with the EZ Snap fastener system. Note: if you chose to use a fabric other than EZ Snap® shading mesh, it will void the fastener warranty.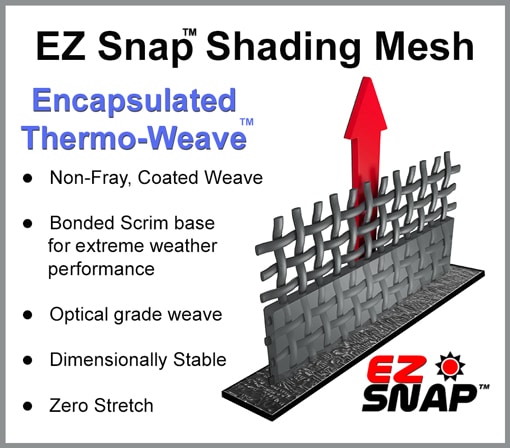 Why is EZ Snap So Effective at Stopping Heat?
EZ Snap Shade Screens are installed on the outside or your windows, shading the glass and stopping up to 90% of the heat before it enters the home or office… far superior to window tinting or film.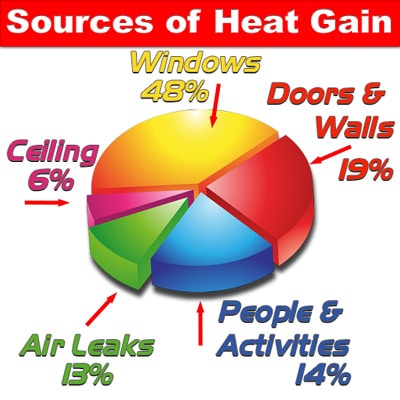 Home window tinting or window film are installed on the inside and reflect heat back into the windows weather seal. This can damage the seal, causing it to expand and contract every time there is a temperature change. For example, cloud cover to full sun then back to cloud cover.
If a window film installer uses a film that reflects too much heat, it will super heat the weather seal of the window. If this continual superheating and cooling of the windows seal causes it to fail, moist inside air gets into the space between the glass causing condensation and loss of the windows insulation value or R Value.
To stop the heat properly you need to do it before it hits the glass surface outside.
Remember: Windows are typically the source for up to 48% of the heat build up inside a home. EZ Snap exterior shades quickly pay for themselves through energy savings.
EZ Snap® shading mesh is an Optical Grade of exterior window shade cloth or shading screen. Most shade cloth mesh or solar screens will provide a significant shade factor, but many of them will distort your vision when you look through them because of their weave style.
Use EZ Snap® window shades to "Block the Heat, Not the View"… 
Samples of Shade Screen Colours with Inside & Outside Views
Shop for Exterior Window Shades
Our sun shade kits are available to fit all window shapes and sizes.
Shop for Extra Snaps & Accessories for Window Shades
Do you have enough EZ Snap® fasteners for your window shade project? Every window shade project is unique and needs a different number of snaps. It is important to order extra snaps along with your kit, if you need them.