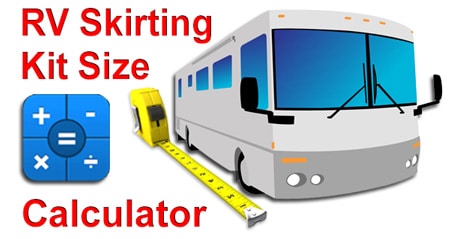 How to Get an RV Skirting Quote
Enter your details into the calculator on this page to get an estimate on the kit size for your RV.
EZ Snap is the #1 Selling RV Skirting product in North America
and we pride ourselves on giving you top-notch customer service.
Follow this link to contact EZ Snap Customer Service. We're always happy to help with your RV Skirting project.
Click RV Skirting Video to Watch:
Once you Calculate the kit size you need,
Select your RV Kit  below

↓
Remember: adding EZ Snap® RV pipe clamps to the bottom of your skirting ensures a better looking and more wind-resistant final product.
Factory Direct Pricing ∗ Wholesale to the Consumer
How Much will I save with EZ Snap® RV Skirting?
- 80% Saving using EZ Snap Skirting VS. Custom Made RV Skirting.
- 45% Average saving in the Heating & Cooling costs of RV.
- $887.75 is the cost of the 90 Ft Kit, which is the most common size ordered.