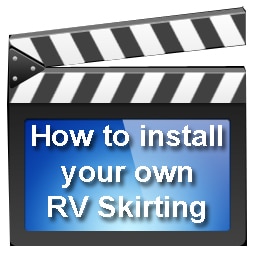 Should I use the 3M adhesive studs or the screw studs to install my skirting?
We recommend that you use the screw stud when installing skirting. Skirting typically sees a lot more wind force on it than shade screen and the screw studs will be able to hold the skirting in place better in extreme conditions.
---
Why is it that the skirting doesn't need to be hemmed or have binding after it is cut?
Our skirting material is a "Non-Fray" material like our shade screen mesh, so that Do-it-yourselfers could cut the fabric on-site and not have to hem the edges. Well, we found an amazingly durable product that was more than capable to handle all of our requirements. This material has a proven track record of outstanding performance. It has the maximum amount of U.V. ray and fade inhibitors, mould and mildew inhibitors and -40 cold weather performance rating. We know you will be very pleased with its performance.
---
I'm in Arizona, will you material stand up to the intense U.V. rays and heat here?
When EZ Snap developed this RV skirting kit, we wanted to use the very best material we could find for the application. It had to be able to handle the extreme summer temperatures in places like Arizona. Our material has the maximum amount of U.V. ray and fade inhibitors available in a vinyl. It also has mould and mildew inhibitors and a "Rip-Stop" scrim base for even more durability.
---
I work on the oil rigs in Northern Alberta Canada; it is common to be well below freezing months at a time. What is this material like in cold weather?
EZ Snaps RV skirting material has a cold weather rating of -40 degrees Fahrenheit / Celsius. Any colder than that and you might want to find work farther south.
---
We recently had strong, gusty winds through our trailer park. Afterwards, we noticed that some of the fasteners had unsnapped. How do we prevent this in the future?
In your situation we recommend that when your installing your RV Skirting, that you place the EZ Snap fasteners closer together for extra holding power. The recommended spacing is MAXIMUM every 10″ for Screw Fasteners and 5″ for Adhesive Fasteners.