25′ Exterior Skylight Shade Kit
25′ Exterior Skylight Shade Kit includes: …FREE SHIPPING…
– 25′ x 6′ piece of EZ Snap® Sun Shade Screen Mesh.
– 125 x Snap Sets (Stud, Pin & Cap)
– 1 x FREE Removal Tool & Layout Pencil when one or more kits are ordered.
**All Prices are in US funds.
Click the Video Below for More Information:
25' Exterior Skylight Shade Kit includes: ...FREE SHIPPING...
- 25' x 6' piece of EZ Snap® Sun Shade Screen Mesh.
- 125 x Snap Sets (Stud, Pin & Cap)
- 1 x FREE Removal Tool & Layout Pencil when one or more kits are ordered.
**All Prices are in US funds.
Still Have Questions ?


Learn More Below
Using our patented no-drill EZ Snap® fastening system, you can install exterior skylight shades on all sizes and brands of skylights.
EZ Snap's heat blocking skylight covers are guaranteed universal fit for all glass, polycarbonate, and acrylic skylights manufactured by brands including:
| | | |
| --- | --- | --- |
| Velux Skylights | Cristalite | Fakro |
| Columbia Skylights | Wasco | Daylite |
| Bristolite | Pella | IQ |
| SunOptics | Sun-Tek | Skyview |
EZ Snap® shades provide DIY installation in minutes without any special tools or experience. 
Install your own professional looking exterior skylight shades in minutes and protect your house from the sun's heat, while still retaining the natural light.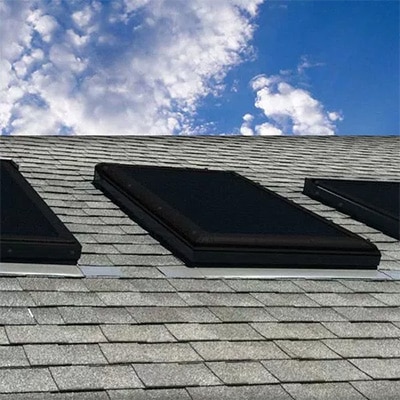 EZ Snap® Skylight Shades fit all makes and models of Skylights.
Skylights are far worse than windows for letting in the sun's heat…
Skylights typically face the sun directly, and so much more heat is able to enter the home than on a side window of the same size. Many skylights lack the insulating value that residential windows have. Skylights act more like a magnifying glass than windows do.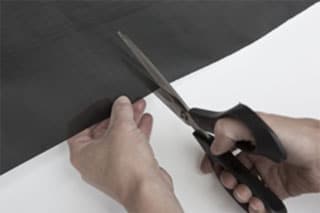 Cut to Size On-site to Fit Any Skylight
Whether you need shades for 1 skylight or 20, EZ Snap® has a kit to fit your project.
Because EZ Snap® mesh is a non-fray material, it can be cut to size right on-site to fit any size or shape of skylight.
Perfect for flat glass or curved plastic domed skylights. EZ Snap skylight blinds and covers are used extensively for large commercial triangle shaped skylights as well.
EZ Snap® is the best solution when interior skylight blinds are not available or simply just too expensive for your budget.
EZ Snap® "No Drill" Fastener System
These amazing "No-Drill" Snaps allow the average do-it-yourselfer to install Exterior Shade Screens with no experience and without specialized tools… Making it easy for you to have professional-looking results every time.
3M Adhesive Studs stick well on smooth, flat, non-textured surfaces such as vinyl skylight frames, aluminum, plastic, and fibreglass.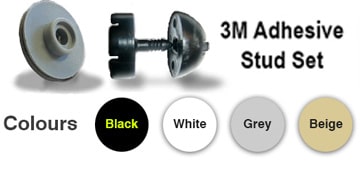 3M Adhesive Snap Fasteners
Leak-Free Install: No Screw Holes
No Drilling: Adhesive only snap fasteners
3M Adhesive: Requires clean, smooth, flat surface 1 inch or wider
Color Matching: 4 Stud colors  available to match mounting surface
How EZ Snap® Fasteners Work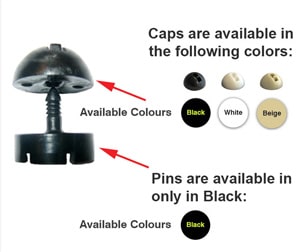 "The Magic of EZ Snap"
The EZ Snap® caps and pins are what make EZ Snap® so easy to install.
The female base of the pin snaps onto the male part of the 3M adhesive snap stud.
Once the pins are snapped onto the studs, puncture the pin end through the skylight shade mesh.
IMPORTANT: Ensure that you have pushed the material down the very base of the pin.
 Next, push the female caps onto the pins to lock them together.
The pin and cap now stay permanently attached to the shade material.
Shades (with pins and caps attached) can be snapped off and on to the 3m adhesive studs for easy removal and re-installation.
Thermo-Weave™ Shading Mesh
"Non-Fray" Bonded Mesh for Extreme Weather Performance
The proprietary encapsulated Thermo-Weave™ shading mesh may be cut to any size or shape without the need for hemming or binding the cut edges.
This unique shade cloth, developed by EZ Snap®, allows the "Do-it-Yourselfer" to create professional-looking finished shade screens   without any need for expensive tools or high priced professional upholsterers.
Our exterior shade cloth blocks up to 90% of the sun's heat and damaging U.V. rays.
When installed using the new EZ Snap fasteners, you are able to get professional, wrinkle free results every time.
EZ Snap® shading mesh as been specifically designed to work with the EZ Snap fastener system. Note: if you chose to use a fabric other than EZ Snap® shading mesh, it will void the fastener warranty.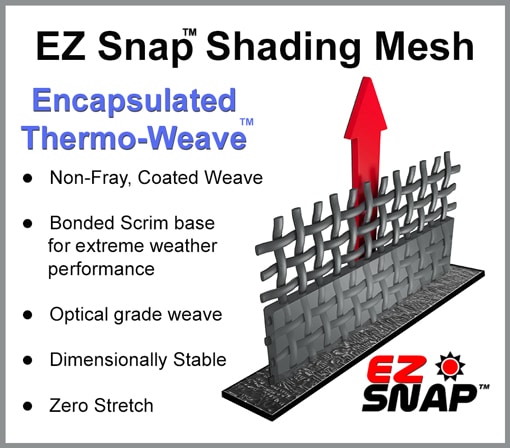 Why is EZ Snap So Effective at Stopping Heat?
EZ Snap Shade Screens are Installed Outside of Skylights
Exterior shading places the Shade Mesh between the sun and the glass, stopping up to 90% of the heat before it enters the lens of the skylight. And, unlike tint or reflective film,  does not damage the skylight or void your warranty.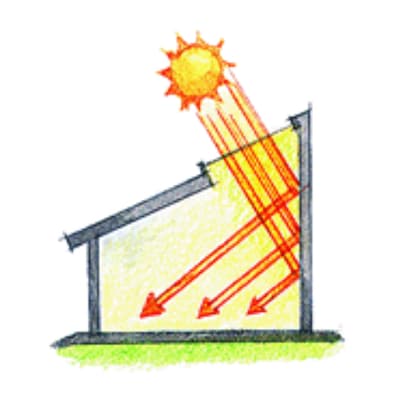 Skylights and Windows are typically the source for up to 48% of the heat build up inside a home. 
Exterior Shades vs. Window Film:
Skylight tinting or glass film are installed on the inside and reflect heat back into the skylights weather seal. This can damage the seal, causing it to expand and contract every time there is a temperature change. For example, cloud cover to full sun then back to cloud cover.
If this continual super-heating and cooling of the skylight's seal causes it to fail. Moist, warm inside air then gets into the space between the layers of glass causing condensation and loss of the skylight's insulation value or R Value.
To stop the heat properly you need to do it before the sun hits the skylight's glass surface and frames outside. EZ Snap exterior shades do exactly that… and quickly pay for themselves through energy savings.
EZ Snap's Thermo-Weave™ Solar Shading Mesh is Optical Grade
Blocks the Heat – Not the View
Many shade fabrics distort the view through them, making those shades hard to look through. EZ Snap designed our mesh using an optical grade weaving technology.
Optical Grade Shades by EZ Snap reduce distortion and weave variations. We believe a skylight shade should allow your skylight to do what it was intended to do. With EZ Snap installed, you will have lots of ambient light in your room while still blocking up to 90% of the sun's heat and ultra violet rays.
Outdoor mounted skylight shades have been proven by the U.S Dept of Energy to be up to 7 times more effective than interior skylight blinds, shades or tinting on your skylight.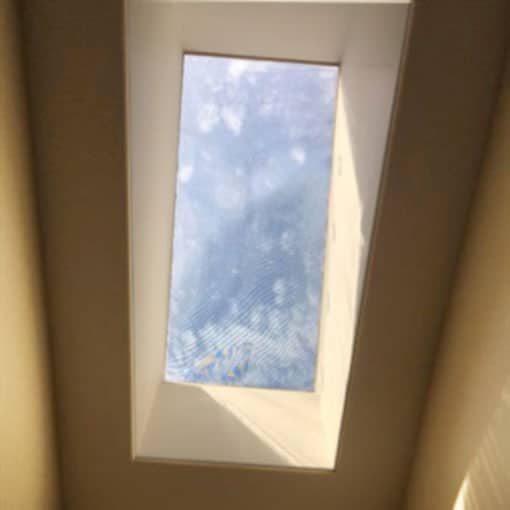 View through skylight with EZ Snap®
Exterior Skylight Solar Shades & Blinds
Proven More Effective than Interior Blinds
A big box store skylight manufacturer tested the effectiveness of cheap skylight blinds to see how much extra heat exterior shade mesh would stop. Test results proved that heat gain was reduced by up to 40% (even on their best double sealed low-E skylight with an energy efficient glazing).
EZ Snap® skylight shade kits are the quickest and easiest way for you to block the sun's heat from your skylight, without blocking the natural light.
Our 3M adhesive snaps save you from drilling holes into your skylights' metal or vinyl frames.
Our skylight shade kits will fit any skylight from the smallest size skylight, all the way up to 6′ x 150′. For larger commercial installations, multiple pieces of shade material can be used together.
How to Install Skylight Shades on Domed Skylights
If you are installing on domed or plastic skylight, we recommend that you add some of our AirFlow suction cup spacers to your order.
On a domed skylight, AirFlow Spacers are typically placed in the centre,  along the highest point in the dome.
For larger domed skylights, you may also want to add additional spacers to help retain an air gap over the entire surface of the skylight.
The plastic pin is inserted through your shading mesh and into the top of the suction cup to hold it in place.
AirFlow Spacers will add an additional 1″ gap between the skylight surface and the shading mesh, further improving the performance and durability of your installation.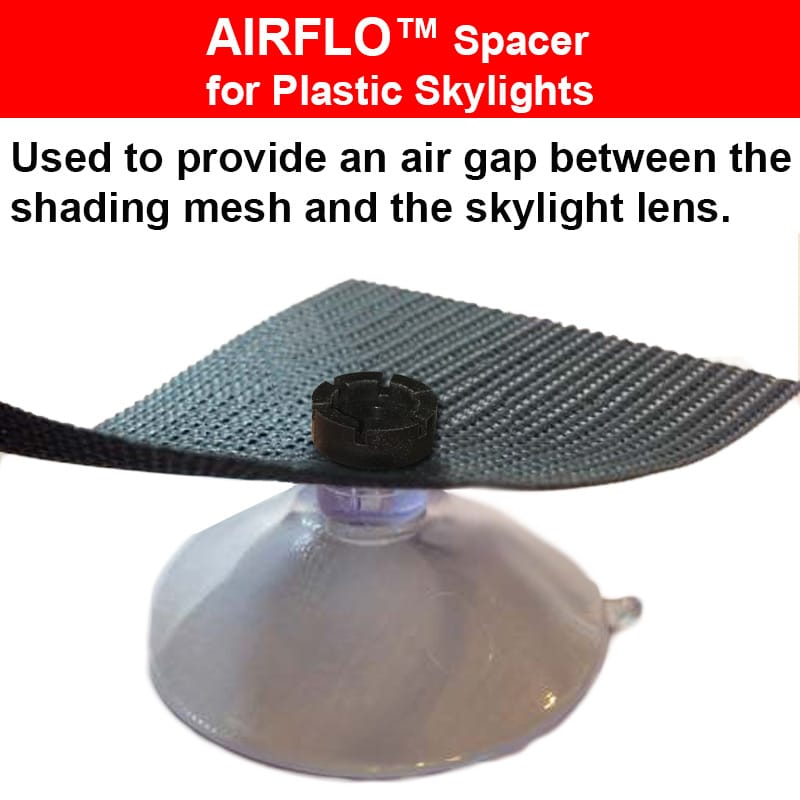 Exterior Skylight Shade Photos
Exterior Skylight Shades Block up to 90% the Sun outside, before the heat gets to the interior of your home or office.
EZ Snap® skylight covers install outside without screws. Using the EZ Snap® fastening system, you can install skylight solar shades to fit all sizes and brands of glass and acrylic skylights, including Velux and Columbia skylights.
How EZ Snap® Pricing Works
Combine Multiple Windows & Skylights to Save Money
Larger Shade Kits work well for projects that include multiple windows or skylights. Find the best kit using the EZ Snap® Kit Size Calculator.
The EZ Snap® Kit Size Calculator determines the best layout for your shades and then recommends the correct size Shade Kit for each project.
Remember to enter your email address to receive a customized layout diagram and snap counts for each skylight or window... very helpful for ordering correctly and planning your cuts before starting your installation.