Cap Placement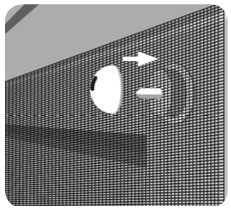 Place Caps over Pins and press down towards the base of the Pin, as far possible.
Locking Mechanism
You should hear the teeth on the Cap clicking as you press Caps down toward the base of each Pin. Once Pins and Caps are locked together, they should never be taken apart again. Pins and Caps should stay permanently locked onto Shade Mesh.
IMPORTANT: Do not pry apart Caps and Pins. This will permanently damage the Fastener.