Blinds and Shades for Arched and curved windows are a real challenge to cover. That is until now.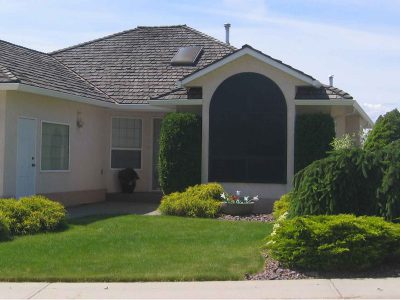 EZ Snap Innovations has developed the perfect solution to providing shade to any shape of window, curved, arched, or even round.
Blinds for Arched Windows (Block the Heat, Not the View)
The specialized EZ Snap shading mesh is able to stop up to 90% of the sun's heat and damaging UV rays, but it does not block your view. The EZ Snap mesh is made using an optical grade, exterior shading material. This allows you to see clearly through the mesh as if it was not even there.
Specialized Shading Mesh can be cut and shaped to fit any shape of window.
The EZ Snap exterior shades are made from an innovative shading mesh the can be cut to any size or shape without fraying. The EZ Snap mesh utilizes encapsulated yarns in its manufacturing procedure, producing an extremely strong, dimensionally stable shading mesh. These special properties are what allow you to cut to size your exterior blinds right on-site for a perfect fit every time. These non-fray properties also make it perfect for use on a triangle or triangular window shades or blinds.