The space underneath your RV is a prime area for cold air to circulate and create freezing conditions that can, in turn, destroy the components that work to make your RV a comfortable home. In the winter, choosing the right RV skirting to fit your needs is an incredibly important task that needs to be considered far ahead of time.
With the right RV skirting, you can keep your RV warm and safe from the weather throughout the entire year, but getting the right skirting isn't always that easy. You'll need to consider your budget, the type of RV you have, the weather in which you hope to use it, and so much more.
This guide helps to first understand what skirting is, discuss some budget methods of creating skirting, and finally, how to choose the RV skirting that can help you get out in the cold weather, but avoid the chill that can so easily make its way inside. 
Understanding RV Skirting
To begin with, it's important to understand what RV skirting is and how it works. In its most simple form, RV skirting acts as a barrier between the ground and your RV to protect it from the cold air that comes along with winter. This cold air poses a threat to all of the plumbing that you rely on to make life comfortable and the skirting helps you to keep on living that way.
Not only does skirting help keep the cold air out, it helps keep the warm air you are producing with whatever heat method you use in. This can drastically reduce your cost of electric or gas consumption in order to save on money for future trips and living. 
This protection between the ground and RV provides protection against pests, reduces wind resistance and drafts, and helps climate control inside of the RV. For anyone that's spent time living in an RV, these are all incredibly important for comfort and proper maintenance.
Different RV Skirting Materials
There are a few different materials that manufacturers use for their skirting, and each one has its own level of benefits and drawbacks. Starting by understanding each material will be a good way to begin finding out which will suit your needs best. 
Custom Vinyl- Custom vinyl skirting can be seen as the top tier of all RV skirting. It's manufactured to fit your specific RV and is installed by the manufacturer to ensure the most secure fit. They fit to the RV via one of various different connection methods such as adhesive snaps, velcro, or T-style twist locks. While they are the best quality, they are also the most expensive to get. 
Self-Installed Vinyl- This vinyl skirting is the more affordable way to get a high quality material to use for your RV. The company will provide all of the materials, but you have to do all of the labor in order to install the skirting. This can be super helpful if you are wanting to save a bit of money, but are also handy enough to install it by yourself. 
Inflatable- Inflatable skirting is newer to the RV market, but is a great and easy solution to installing vinyl skirting. The skirting inflates and holds itself in place with the pressure formed from inflation rather than with any form of fastening, which makes it incredibly easy to install and take down by yourself. 
DIY Skirting- If you're hoping to save a lot of money and feel up to the task, there are a lot of different ways that you can make your own skirting from different materials. There are choices from making your own vinyl skirting all the way down to using hay bales to create the barrier necessary. 
What is Homemade RV Skirting?
Making your own RV skirting is a feasible project for anyone with a little bit of DIY experience. As mentioned before, there are multiple forms of homemade RV skirting that span a wide range of difficulty and efficiency. 
Homemade RV skirting comes along with its own list of pros and cons. Depending on the style you go with, you can make the skirting fully customizable to fit your individual needs while also saving a lot of money on your budget. This can also be easily done with on-hand, affordable materials such as hay bales, foam insulation boards, nylon tarps, and even plywood or particle board. 
Pros of Homemade RV Skirting
Cost-effective

Customizable

Use of materials on hand
Cons of Homemade RV Skirting
Involved process

Easy to mess up

Lack of manufacturer warranty

Can be difficult to store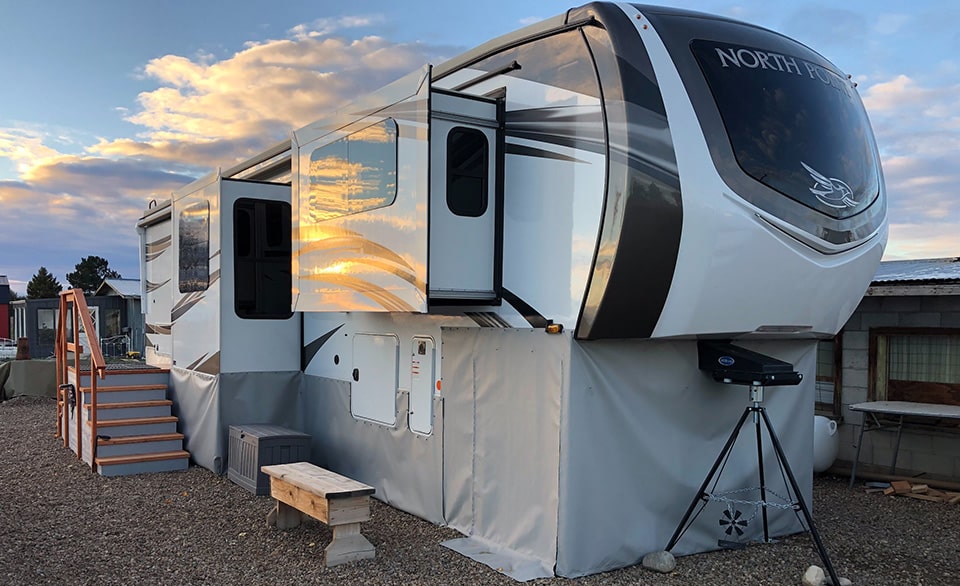 What is 5th Wheel Skirting?
5th wheel skirting can be similar to traditional RV skirting, but it needs to be designed to accommodate the different shape of a 5th wheel camper. 5th wheel RVs are made to be on the move often and aren't always disconnected from the truck that is hauling them. For that, the skirting needs to be fit to work around the truck bed, as well as be easily removable for when you are driving. 
5th wheel skirting is just as necessary as the skirting for a normal RV. Your pipes are at a great risk when the cold weather comes and skirting is exactly what's necessary to protect them. 
How to Choose the Right RV Skirting for Your Needs
Climate
Knowing the climate that you'll be in is one of the most important factors that plays into choosing the right RV skirting. For example, if the climate that you live in reaches drastically low temperatures, you need to consider higher end and more protective skirting. If you live in a more moderate environment, homemade skirting options may be enough to provide protection. 
Duration of Stay
If your RV is fixed to a position for a long time, or even permanently, you can opt for certain skirting options that you may not normally consider. Plywood skirting can offer a functional and aesthetic value to the RV, but it's almost impossible to make it portable. Nylon and inflatable skirts are easy to take down and install when you are moving around almost every day. 
RV Type
The type of RV you have may influence the style of skirting that you can use. Most companies will make skirting for almost every RV type, but you may want to start by understanding the specific skirting necessary for your RV before shopping. 
Budget
Budget is unfortunately one of the biggest determining factors for many people shopping for an RV skirt. Custom-made nylon skirting can cost a lot of money but is a great investment. If your budget is significantly lower, you may need to consider a homemade option or be ready to do the installation yourself. 
RV Size
Various RV sizes can accommodate certain types of skirting more easily than others. With larger RVs, you will need more material, which means more to carry around and more material to pay for. Measuring your RV correctly will give you a good idea of what options are available for you. 
Installation Difficulty
If you're installing the skirting on your own, you may want to try to understand how difficult it will be to install before purchasing. If you're more mobile, then the installation difficulty will be incredibly important so you can get the skirting set up quickly each time you land at camp for the night. 
Making the Right Choice: Comparing Your Options
RV skirting, 5th wheel skirting, and homemade skirting are all great options for getting the right fit for your rig. Each model also has its own list of pros and cons that may not be to your personal benefit. Choosing the right model will take a lot of research and spending time to make sure your skirt matches your needs. 
Making the best choice means looking at all of your individual needs and circumstances.
For example, if you move around a lot, something that's easy to set up and take down will be your best option.
If you're staying put for a long time and are on a budget, you can build plywood skirts. If you have the money, custom-made nylon skirts are a great long-term option.
For certain 5th wheels, you may need to customize the skirting to fit your truck and protect the undercarriage of where the 5th wheel is hauled. Some skirts will only protect the lower portion, where your pipes are, and let in a lot of cold through other areas. \
Take all of your needs into consideration before making your choice and talk to others who have spent time in the process. 
Conclusion
All in all, RV skirting is an incredibly important piece of equipment to have ready for your rig when the winter hits. The type of skirting is important to understand in order to provide the best protection possible for all of the pipes and gear inside the RV itself.
When you take the time to carefully consider the options and make an informed decision for your RV skirting, the result is bound to be positive, leaving you with an overall more comfortable and hassle-free life on the road.